Atlantis August 7 – "I started knocking on doors 20 months ago," said District 22 candidate for the House of Representatives DaveWagie. "I'd ask 'What's your biggest concern for our country?' and people would respond 'jobs, or the economy, or gridlock in Congress, or lack of leadership.'"
"I'm still knocking on doors, but today their answers are 'ObamaCare, my premium tripled,''ObamaCare, I can't see my doctor,' 'ObamaCare, it doesn't cover my prescriptions,' and 'ObamaCare, my wife and daughter got bounced off the policy.'"
The August Republican Central Club meeting invited all three candidates for District 22 to discuss the issues, but Andrea McGee couldn't make it, and Paul Spain was represented by his campaign manager, which made it slightly unfair. Nonetheless, issues were raised and discussed, with not many stark differences between them.
Wagie readily agreed to sign Phil Blumel's Pledge on Term Limits and had an interesting answer when asked how he would avoid the temptations offered by the K Street lobbyists.
"I'm a Christian and God is my strength," he said. "I have no desire for anything in Washington except to represent my constituents. They're my special interest."
Spain's representative could not sign for him, but said that "remaining honest and staying true to your constituents was the best way to avoid the pitfalls of the lobbyists, or else voters would send you packing."
Next month's meeting will feature a mesmerizing speaker from the Tea Party. Be sure to bring a friend, Thursday, Sept. 4th.
Every two years, during the summer of an election year, the county GOP hosts a "Jamboree" at the South County Civic Center. With a barbecue lunch under the pavillion roof, surrounded by covered booths hosted by candidates and political clubs, it is gathering place for the GOP faithful and those who seek to represent them at all levels of government.
This year was no different, although there are fewer contested races than in years past, and thus fewer candidates to strut their stuff. With the absence of a Senate race or close primary for Governor, the intensity was somewhat subdued, but the stakes are as high as ever, and those in attendance were asked to help get our candidates over the finish line.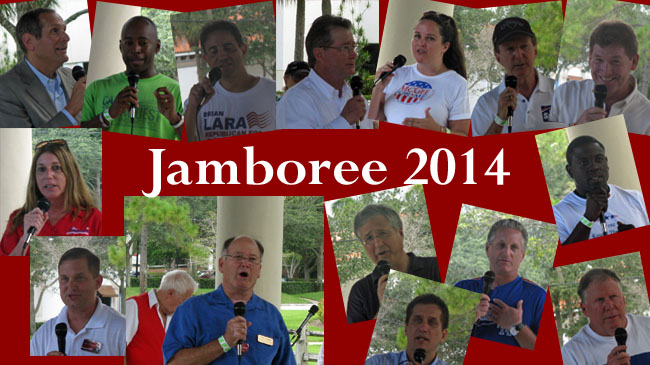 Clockwise from upper left: Alan Schlesinger, Calvin Turnquest, Brian Lara, Jay Bonner, Andrea McGee, Paul Spain, David Wagie, Kesnel Theus, Joseph Moore, Andrew Schaller, Thomas Sutterfield, Steven Abrams, MC Peter Feaman, Stuart Mears and Ellyn Bogdanoff.
With Committeman Peter Feaman as MC, the candidates made their pitch.
Three of the six Republicans seeking to challenge Patrick Murphy in CD18 were present, including Alan Schlesinger, Brian Lara, and Calvin Turnquest. And in CD22, all three of Lois Frankel's challengers – David Wagie, Paul Spain and Andrea McGee participated, as did our challenger for Alcee Hastings CD20, Jay Bonner. There is no Republican challnger against Ted Deutch in CD21.
At the state level we had Ellyn Bogdanoff, seeking a rematch with Maria Sachs in SS34. After the redistricting shuffle left two sitting Senators to go head to head in 2012 for a D+9 district, Sachs prevailed with 53% of the vote. With turnout expected to be less favorable to Democrats in this midterm, the rematch could have a different result. Stuart Mears, challenging Mark Pafford for House District 86 was with us as well.
None of the executive candidates (Governor, AG, CFO, Agriculture) were present.
At the county level, we heard from Steven Abrams, running for re-election as county commissioner in district 4, and Andy Schaller who is seeking the open seat in district 6 vacated by term limited Jess Santamaria, and school board candidates Joseph Moore, the district 6 challenger to incumbent Marcia Andrews, and Thomas Sutterfield for the open seat in district 4. Kesnel Theus, who is running against Peyton McArthur for the open seat on the Port Commission joined us as well.
August 7th meeting of the Republican Club has invited the three candidates challenging Lois Frankel in our 22nd congressional district to discuss the election with us.  Frankel is in her first (and, hopefully, only) term and, as expected, votes* down there with Debbie Wasserman-Schultz, Alcee Hastings and the other Big Spenders that have put us and our children in such deep debt.  We have some good candidates –come and meet them.  They'll each give a brief presentation and then answer all of our questions. Come and decide which one to vote for to oppose Frankel so you can cast an informed ballot. They are:  Andrea McGee, David Wagie, and Paul Spain.
Meeting begins at 6:30 p.m., at the Atlantis Country Club, 190 Atlantis Dr. Light fare at 6. First-time guests, free.