Join us for Lobsterfest 2017. In addition to keynote speaker James O'Keefe, we will hear from Agriculture Commissioner and candidate for Governer Adam Putnam, Congressmen Brian Mast and Ron DeSantis, and State Senator Jack Latvala.
Please call 561-686-1616 for reservations. For more information, see lobsterfest.gop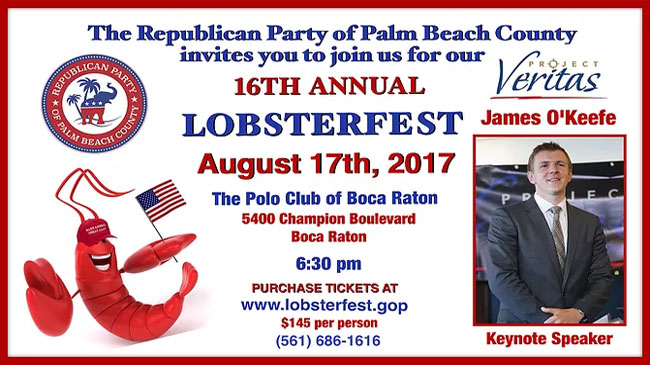 REPUBLICAN CLUB OF CENTRAL PALM BEACH COUNTY
Next Monthly Meeting: Thursday, June 1st
Special Guest Speaker: Roger Stone
Author of "The Making of a President"
Location: The Atlantis Country Club
190 Atlantis Blvd
Atlantis/Lake Worth, FL
All are welcome! $12 members, $15 non-members.
Includes a drink and hors d'oeuvres.
Support the Republican Party and join us for our 14th annual lobsterfest hosted at Broken Sound Country Cub in Boca Raton. The event will begin with a cocktail reception, followed by dinner and a desert. Featuring Lieutenant Governor Carlos Lopez-Cantera,Congressman Ron Desantis, Congressman Jeff Miller and many more to come!
Governor Scott's re-election campaign is in the process of recruiting poll watchers for Early Voting and Election Day for the November 4, 2014 General Election. We appreciate your time and effort as a poll watcher for the Republican Party of Palm Beach County in past elections and now we need your help again for the 2014 General Election.
We need tons of volunteers to fill all the polling locations on Election Day as well as the early voting sites in Palm Beach County. You will play a vital part in protecting the fundamental constitutional rights of all Florida's citizens—regardless of race, color, ethnicity, or political persuasion. I know I do not have to tell you how important this election is. We have over 15 Early Voting sites and approximately 500 Election Day polling locations to cover in Palm Beach County, so the success of our Poll Watcher Program for the 2014 General Election depends on you. The Democrats will have people at every pollinglocation and we need to counter this and can only accomplish this with your participation. Please reply to my email with your name, address, daytime phone number, and date of birth. The Elections Office needs your date of birth to certify you.
Thank you in advance for your help and contribution to our success in the 2014 General Election. If you have any questions please do not hesitate to contact me.
Ryan Walker
South Florida Deputy Political Director
Rick Scott for Florida
(561) 373-7626
Every two years, during the summer of an election year, the county GOP hosts a "Jamboree" at the South County Civic Center. With a barbecue lunch under the pavillion roof, surrounded by covered booths hosted by candidates and political clubs, it is gathering place for the GOP faithful and those who seek to represent them at all levels of government.
This year was no different, although there are fewer contested races than in years past, and thus fewer candidates to strut their stuff. With the absence of a Senate race or close primary for Governor, the intensity was somewhat subdued, but the stakes are as high as ever, and those in attendance were asked to help get our candidates over the finish line.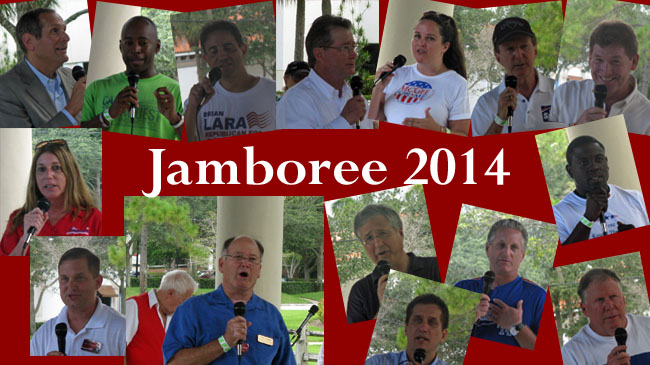 Clockwise from upper left: Alan Schlesinger, Calvin Turnquest, Brian Lara, Jay Bonner, Andrea McGee, Paul Spain, David Wagie, Kesnel Theus, Joseph Moore, Andrew Schaller, Thomas Sutterfield, Steven Abrams, MC Peter Feaman, Stuart Mears and Ellyn Bogdanoff.
With Committeman Peter Feaman as MC, the candidates made their pitch.
Three of the six Republicans seeking to challenge Patrick Murphy in CD18 were present, including Alan Schlesinger, Brian Lara, and Calvin Turnquest. And in CD22, all three of Lois Frankel's challengers – David Wagie, Paul Spain and Andrea McGee participated, as did our challenger for Alcee Hastings CD20, Jay Bonner. There is no Republican challnger against Ted Deutch in CD21.
At the state level we had Ellyn Bogdanoff, seeking a rematch with Maria Sachs in SS34. After the redistricting shuffle left two sitting Senators to go head to head in 2012 for a D+9 district, Sachs prevailed with 53% of the vote. With turnout expected to be less favorable to Democrats in this midterm, the rematch could have a different result. Stuart Mears, challenging Mark Pafford for House District 86 was with us as well.
None of the executive candidates (Governor, AG, CFO, Agriculture) were present.
At the county level, we heard from Steven Abrams, running for re-election as county commissioner in district 4, and Andy Schaller who is seeking the open seat in district 6 vacated by term limited Jess Santamaria, and school board candidates Joseph Moore, the district 6 challenger to incumbent Marcia Andrews, and Thomas Sutterfield for the open seat in district 4. Kesnel Theus, who is running against Peyton McArthur for the open seat on the Port Commission joined us as well.