Governor Scott's re-election campaign is in the process of recruiting poll watchers for Early Voting and Election Day for the November 4, 2014 General Election. We appreciate your time and effort as a poll watcher for the Republican Party of Palm Beach County in past elections and now we need your help again for the 2014 General Election.
We need tons of volunteers to fill all the polling locations on Election Day as well as the early voting sites in Palm Beach County. You will play a vital part in protecting the fundamental constitutional rights of all Florida's citizens—regardless of race, color, ethnicity, or political persuasion. I know I do not have to tell you how important this election is. We have over 15 Early Voting sites and approximately 500 Election Day polling locations to cover in Palm Beach County, so the success of our Poll Watcher Program for the 2014 General Election depends on you. The Democrats will have people at every pollinglocation and we need to counter this and can only accomplish this with your participation. Please reply to my email with your name, address, daytime phone number, and date of birth. The Elections Office needs your date of birth to certify you.
Thank you in advance for your help and contribution to our success in the 2014 General Election. If you have any questions please do not hesitate to contact me.
Ryan Walker
South Florida Deputy Political Director
Rick Scott for Florida
(561) 373-7626
Every two years, during the summer of an election year, the county GOP hosts a "Jamboree" at the South County Civic Center. With a barbecue lunch under the pavillion roof, surrounded by covered booths hosted by candidates and political clubs, it is gathering place for the GOP faithful and those who seek to represent them at all levels of government.
This year was no different, although there are fewer contested races than in years past, and thus fewer candidates to strut their stuff. With the absence of a Senate race or close primary for Governor, the intensity was somewhat subdued, but the stakes are as high as ever, and those in attendance were asked to help get our candidates over the finish line.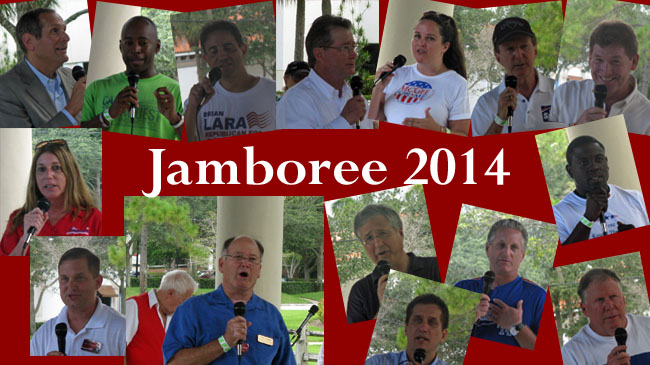 Clockwise from upper left: Alan Schlesinger, Calvin Turnquest, Brian Lara, Jay Bonner, Andrea McGee, Paul Spain, David Wagie, Kesnel Theus, Joseph Moore, Andrew Schaller, Thomas Sutterfield, Steven Abrams, MC Peter Feaman, Stuart Mears and Ellyn Bogdanoff.
With Committeman Peter Feaman as MC, the candidates made their pitch.
Three of the six Republicans seeking to challenge Patrick Murphy in CD18 were present, including Alan Schlesinger, Brian Lara, and Calvin Turnquest. And in CD22, all three of Lois Frankel's challengers – David Wagie, Paul Spain and Andrea McGee participated, as did our challenger for Alcee Hastings CD20, Jay Bonner. There is no Republican challnger against Ted Deutch in CD21.
At the state level we had Ellyn Bogdanoff, seeking a rematch with Maria Sachs in SS34. After the redistricting shuffle left two sitting Senators to go head to head in 2012 for a D+9 district, Sachs prevailed with 53% of the vote. With turnout expected to be less favorable to Democrats in this midterm, the rematch could have a different result. Stuart Mears, challenging Mark Pafford for House District 86 was with us as well.
None of the executive candidates (Governor, AG, CFO, Agriculture) were present.
At the county level, we heard from Steven Abrams, running for re-election as county commissioner in district 4, and Andy Schaller who is seeking the open seat in district 6 vacated by term limited Jess Santamaria, and school board candidates Joseph Moore, the district 6 challenger to incumbent Marcia Andrews, and Thomas Sutterfield for the open seat in district 4. Kesnel Theus, who is running against Peyton McArthur for the open seat on the Port Commission joined us as well.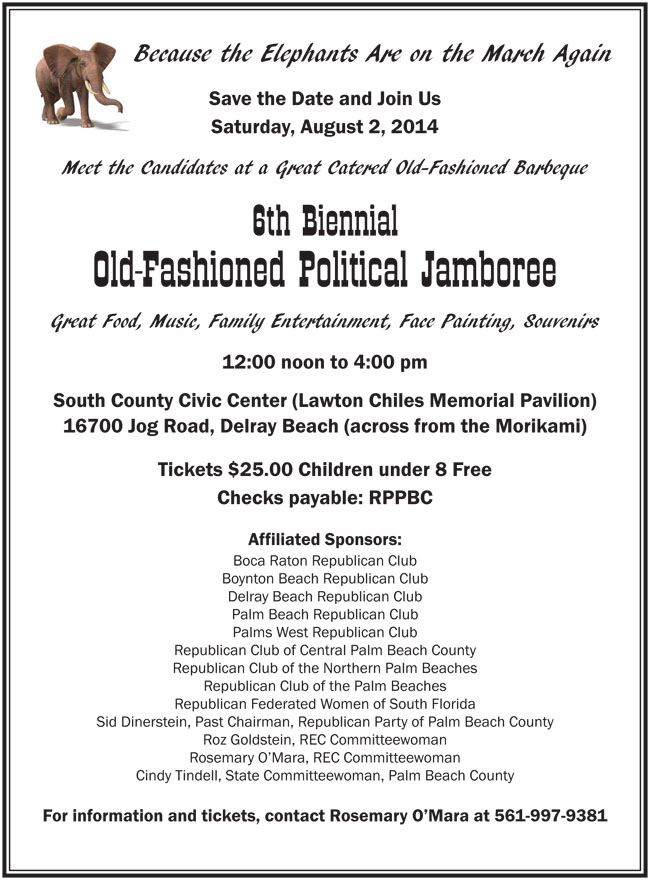 Our own Bill Skinner, attorney, civic activist, community leader, and bon vivant will discuss the trials and tribulations of conducting a fair and uncorrupted election here in internationally renowned Palm Beach County. It's amazing how far our reputation has spread.
The meeting will begin at 6:30 pm on Thursday, June 5th, at Atlantis Country Club, with light hors d'oeuvres served beforehand. Your attendance could prove pivotal in the fateful elections ahead. So please bring a friend. First-time guests are warmly welcomed at no charge.
Early Voting – 2012 General Election
Saturday, October 27, 2012 through Saturday, November 3, 2012
Voting Times
7:00 am – 7:00 pm Daily
Please
CLICK HERE
for location and details
Oct. 4, 2012, Atlantis – While the pivotal presidential race screams for our attention, more mundane but potentially equally fateful contests appear on November's Palm Beach County Ballot, to which many voters remain blissfully unapprised. To remedy those blind alleys, Taxpayers Action Board founder and all-around Good Samaritan Fred Scheibl reviewed the various measures before a packed house at the most recent GOP Central Club meeting.
"In addition to all the local personnel races requiring your consideration, from Representatives to Justices to Commissioners, there are 11 State Constitutional measures and two highly emotional County questions up for grabs," he explained. "If you log on to www.southflorida912.org or to the Club's website, www.rccpbc.com and then click on the South Florida 9-12 site under Links, you'll see the rationale behind each of these contests and our civic organization's "pocket picks". Just to demonstrate how little attention gets paid to these legalese choices, in 2008 only one sixth of the voters made selections at the bottom of the ballot as compared to one hundred percent at the top."
In rapid fire order, Scheibl reviewed the background, context, and selections proffered by South Florida 9-12. Here is a distilled list of their recommendations:
Retention of Florida Supreme Court Justices Lewis, Pariente, and Quince, Against.
Retention of Justices Conner and Taylor, For.
Amendment #1, Health Care Services, For.
Amendment #2, Veterans Tax Break, For.
Amendment #3, State Gov't Revenue Limitation, For.
Amendment #4, Property Tax Limitations, Against
Amendment #5, State Courts, Against
Amendment #6, Prohibition of State Funds for Abortions, For.
Amendment #8, Religious Freedom, For.
Amendment #9, Homestead Tax Exemption Military Spouses, Against.
Amendment #10, Tangible Property Tax Exemption, For.
Amendment #11,  Additional Homestead Exemption for Certain Seniors, Against.
Amendment #12, Student Body Pres. to Bd. Of Gov., No Consensus.
PBC Question #1, Slot Machines at Licensed Pari-Mutual Facilities, No Consensus.  On this controversial issue, Mrs. Virginia Brooks spoke before the group in Opposition, and Mr. Mike Jones spoke in Advocacy. The former pointed out the many addictions and societal ills related to gambling, while the latter defended the Rooney Family's civic activism as owners of the Kennel Club and the jobs and revenue passage would bring to the County.
PBC Question #2, Property Tax Exemptions for New and Expanding Businesses, For.
The next Republican Central Club meeting will take place on Thursday, Nov. 1st. Florida State Republican Committeeman Peter Feaman will discuss the current state of the Party and his latest book, The Next Nightmare. No charge for first-time guests. For information, contact Club V-P Steve Ledewitz at 561-733-9277. 
Join State Attorney candidate Republican Dina Keever for this reception / fundraiser.

There is something for everyone on the ballot in August, regardless of your party affiliation. Look over the list below, then go to our Voter's Guide to learn about the candidates and view the district maps.
Keep in mind that August elections are low turnout affairs, so your vote will count for more than in the November election. In 2010 for example, 377K people in the county voted in November, but only 127K in August.
---
ALL VOTERS
can vote in the non-partisan and/or "universal primary" races which include:
(* indicates incumbent, write-ins not listed)
Sheriff (Ric Bradshaw*, Joe Talley, Cleamond Walker)
Property Appraiser (Gary Nikolits*, Robert Weinroth)
Clerk and Comptroller (Sharon Bock*, Lisa Epstein) (universal primary)
Supervisor of Elections (Susan Bucher*, Woodie McDuffie, Coneste Succe)
15th Circuit Judge Group 2 (Timothy McCarthy*, Jody Lane)
15th Circuit Judge Group 9 (Ron Alvarez*, Jaimie Goodman)
15th Circuit Judge Group 26 (James L. Martz*, Margherita Downey)
County Court Judge Group 4 (Peter M. Evans, Kenneth Lemoine)
County Court Judge Group 6 (Edward A. Garrison, Jane F. Sullivan)
plus the following if you live in these districts:
State House District 87 (Dave Kerner, Mike Rios) (universal primary)
State House District 88 (Charles Bantel, Evelyn Garcia, Bobby Powell, Nikasha Wells) (universal primary)
School Board District 1 (Robert Bittenbinder, Michael Howard, Christine Jax, Lowell Levine, Michael Murgio)
---
If you are a
REPUBLICAN
, you can also vote for:
US Senate (Connie Mack, Ron McNeil, Mike McCalister, Marielena Stuart, Dave Weldon)
GOP State Committeewoman (Fran Hancock*, Cindy Tindell)
GOP State Committeeman (Peter Feaman*, Corey Brisson)
plus the following if you live in these districts:
Congressional District 18 (Allen West, Robert Crowder)
State Senate District 25 (Melanie Peterson, Geoff Sommers)
State Senate District 34 (Ellyn Bogdanoff, Mike Lameyer)
State House District 82 (Carl Domino, Mary Lynn Magar, John Milton, John Pasqualone, Calvin Turnquest)
County Commission District 1 (Dan Amero, Harry Gaboian, Hal Valeche)