REPUBLICAN CLUB OF CENTRAL PALM BEACH COUNTY
Next Monthly Meeting: Thursday, June 1st
Special Guest Speaker: Roger Stone
Author of "The Making of a President"
Location: The Atlantis Country Club
190 Atlantis Blvd
Atlantis/Lake Worth, FL
All are welcome! $12 members, $15 non-members.
Includes a drink and hors d'oeuvres.
Atlantis, July 7, 2016 – Palm Beach County GOP Political Director Ryan Hnatiuk urged Republican Central Club members at their monthly meeting, to become activists on the Republican Executive Committee. The veteran South Florida political consultant's powerpoint presentation described the "job" responsibilities in these historic moments as the following: To serve as the GOP voice in your neighborhood; to make sure all registered Republicans vote; to liaise, recruit, and serve; and to contact all your precinct fellow GOP members.
He then explained the do's and don'ts of successful campaign dialogue, and suggested the websites www.pbcelections.org and www.palmbeachgop.org for enhanced information.
Atlantis, November 5 – An optimistic U.S. Term Limits President Phil Blumel told a crowded Central Republican Club meeting that the only way to reform Congress was via a Constitutional Amendment. "We have just launched the largest and most extensive campaign for congressional term limits ever," he stated, "targeting 15 states in the 2015 elections, complete with lobbyists, grass roots activists, ambassadors, and social media experts to produce applications from state legislatures calling for an Article V Convention."
Blumel explained that the time is now ripe for supporters and signees of the Pledge Program to submit bills which will lead to a Term Limits Convention, which by its very encroachment upon realization will compel Congress to act on its own and introduce the Amendment, as it did in 1917 for the Direct Election of Senators. Although ideally the applications would uniformly call for 6 years for Representatives and 12 for Senators, that cannot be assumed, and therefore, not specifying the specific limit would make uniformity by each state easier.
"There are plenty of State Legislators across the country who would like to bring their fresh ideas to Washington, not be beholden to corporate lobbyists or special interest groups, do their jobs, and go home the way the Founders envisioned the system working," he added.
During Q&A he noted that emails would shortly be sent to all the supporters, detailing the specific steps to take to pressure elected officials to support Florida's application for a U.S. Term Limits Convention.
The RCCPBC's annual festive Holiday Meeting will be held on Thursday Dec. 3rd at the Atlantic Country Club. In addition to music and song, all of the Florida candidates running for the U.S. Senate have been invited, and will be given 10 minutes to present their platforms. More details will follow shortly.
Lastly, the next Palm Beach County Republican Executive Council meeting will also be held at the Atlantic Country Club, on Wed. evening, Dec. 2nd. Everyone is invited but please call the GOP office to RSVP.
Atlantis, October 1 – The wrath of much of the American citizenry expresses itself not only in the popularity of outsiders currently running for high office, but also in the swelling grassroots support for an overdue Article V Convention of States. "We want to lessen the power of the Federal Government and also that of States' Government, and return as much as feasible back to the people," said guest speaker Pamela Wohlschlegel.
Convention of States Mission Statement
"To urge and empower state legislators to call a Convention of States to propose amendments to the Constitution to curb the abuses of the federal government."
The co-founder of the Palm Beach County Tea Party was speaking on behalf of Citizens for Self-Governance in explaining the intricacies of Article V's alternative method for amending the Constitution. Days before the conclusion of its drafting in 1787, Virginia Delegate George Mason realized that the Federal Government as constructed could turn into a ravenous beast if no mechanism remained for the people to alter its provisions, and so he modified Article V to provide for a technique.
Tea Party Patriots Co-founder Mark Meckler's chance meeting with radio host Mark Levin in 2013 gave impetus to initiate a serious nationwide movement to realize this convention, and already four State Legislatures have officially called for its enactment. More are expected in 2016 and hopefully, the magic number of 34 will be realized by 2017.
Although flushing out such an historic achievement may seem daunting, the aspiration for getting America's house in order – a balanced budget amendment, term limits, tax reform, redefining the General Welfare Clause, et al – has motivated thousands of patriots to join the effort. The initial key to success lies in educating the populous, and the quickest way to learn the myriad questions and answers is to read the contents at www.conventionofstates.com.
Thirty-seven states have already introduced the application in their legislatures, and a three-day simulation of a Convention of States will take place at the Wyndham Grand Hotel in Jupiter's Harbourside Place, beginning Oct. 28th. The excitement will be palpable.
The RCCPBC's November 5th meeting will feature U.S. Term Limits President Phil Blumel, who has dramatic news to share with all the membership. Please bring a friend.
Guest speaker Nick Tomboulides, Executive Director of U.S. Term Limits, told the November RCCPBC audience that achieving a Constitutional Amendment for Term Limits was not Mission Impossible. "Grassroots lobbying can be the agent of change," he said, noting that conservative commentator Mark Levin had listed Term Limits as his Number One priority in his book, The Liberty Amendments.  
Tomboulides informed his listeners that Congress had voted favorably on the issue in 1995, but had not reached the necessary two thirds majority to enact the bill. In that same vein, the notoriously corrupt state of Illinois had put a Term Limits proposition on its latest ballot initiative, but a "persuadable" judge had removed it at the last second citing its "unconstitutionality."
Tomboulides stressed that "limited terms equals limited government," and that "more competition with more candidates brings more ideas with more freedom," as the Founders had envisioned.
He added that 15 candidates had been elected to the incoming Congress who had signed the Term Limits Pledge, bringing the number of cosponsors to a future amendments bill to 45. Five newly-elected Senators also support the measure, Tillis, Baines, Cassidy, Sasse, and Perdue.
Moreover, U.S. Term Limits looks to submit a petition to Congress with no less than a million signatures, adding to the 36 states that already have term limits for their Governors, and the movement for a National Constitutional Convention – as allowed under Article V of the Constitution – to bring about this necessary change.
The Dec. 4th monthly meeting will be a festive affair, with a fabulous dinner, music and singing, and Tom Trento as our featured speaker, who will bring us up to date on his campaign to combat sharia law being enacted in the United States. Tickets are $49 for members and $55 for guests. Please contact Pres. Steve Ledewitz at 561-733-9277 for reservations and menu selections.
Every two years, during the summer of an election year, the county GOP hosts a "Jamboree" at the South County Civic Center. With a barbecue lunch under the pavillion roof, surrounded by covered booths hosted by candidates and political clubs, it is gathering place for the GOP faithful and those who seek to represent them at all levels of government.
This year was no different, although there are fewer contested races than in years past, and thus fewer candidates to strut their stuff. With the absence of a Senate race or close primary for Governor, the intensity was somewhat subdued, but the stakes are as high as ever, and those in attendance were asked to help get our candidates over the finish line.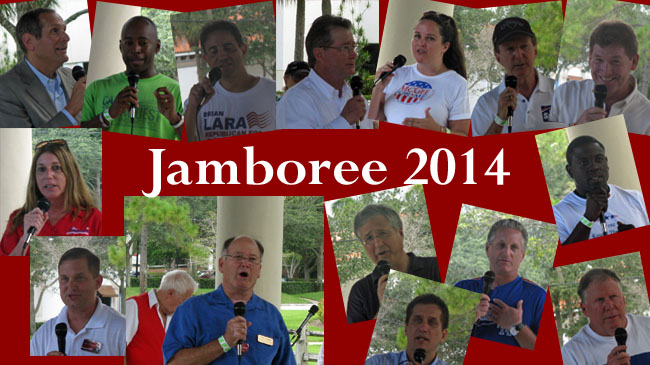 Clockwise from upper left: Alan Schlesinger, Calvin Turnquest, Brian Lara, Jay Bonner, Andrea McGee, Paul Spain, David Wagie, Kesnel Theus, Joseph Moore, Andrew Schaller, Thomas Sutterfield, Steven Abrams, MC Peter Feaman, Stuart Mears and Ellyn Bogdanoff.
With Committeman Peter Feaman as MC, the candidates made their pitch.
Three of the six Republicans seeking to challenge Patrick Murphy in CD18 were present, including Alan Schlesinger, Brian Lara, and Calvin Turnquest. And in CD22, all three of Lois Frankel's challengers – David Wagie, Paul Spain and Andrea McGee participated, as did our challenger for Alcee Hastings CD20, Jay Bonner. There is no Republican challnger against Ted Deutch in CD21.
At the state level we had Ellyn Bogdanoff, seeking a rematch with Maria Sachs in SS34. After the redistricting shuffle left two sitting Senators to go head to head in 2012 for a D+9 district, Sachs prevailed with 53% of the vote. With turnout expected to be less favorable to Democrats in this midterm, the rematch could have a different result. Stuart Mears, challenging Mark Pafford for House District 86 was with us as well.
None of the executive candidates (Governor, AG, CFO, Agriculture) were present.
At the county level, we heard from Steven Abrams, running for re-election as county commissioner in district 4, and Andy Schaller who is seeking the open seat in district 6 vacated by term limited Jess Santamaria, and school board candidates Joseph Moore, the district 6 challenger to incumbent Marcia Andrews, and Thomas Sutterfield for the open seat in district 4. Kesnel Theus, who is running against Peyton McArthur for the open seat on the Port Commission joined us as well.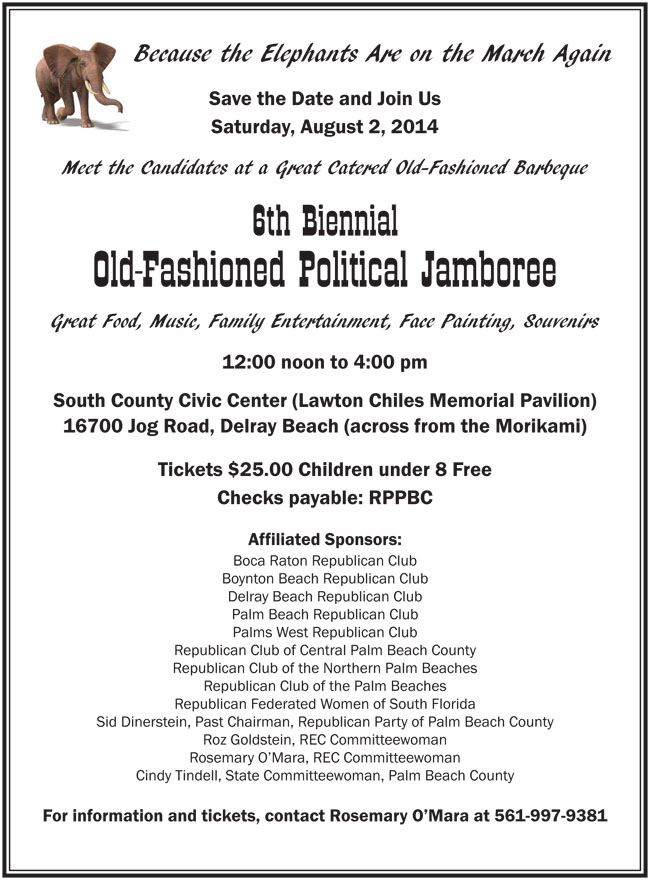 Our own Bill Skinner, attorney, civic activist, community leader, and bon vivant will discuss the trials and tribulations of conducting a fair and uncorrupted election here in internationally renowned Palm Beach County. It's amazing how far our reputation has spread.
The meeting will begin at 6:30 pm on Thursday, June 5th, at Atlantis Country Club, with light hors d'oeuvres served beforehand. Your attendance could prove pivotal in the fateful elections ahead. So please bring a friend. First-time guests are warmly welcomed at no charge.
Our Guest Speaker at the Thursday,
April 3rd
meeting will be
Robert Weissert
, Vice President of Research for the consumer watchdog group,
Florida Tax Watch
. The monthly meeting at Atlantis Country Club begins at 6:30, and for more information about
Florida Tax Watch
, click on
https://www.youtube.com/watch?v=ERXG3NmbSac
.
Atlantis March 6 – With an unfortunate last-minute postponement by guest speaker Dr. Larry Kawa, club members rose to the occasion to conduct a fruitful meeting.
Veteran activist George Blumel led the parade, describing his recent excursion to Tallahassee under the Americans for Prosperity banner. "We met with representatives of both the House and the Senate," he said, "and discussed our top legislative priorities: Support Gov. Scott's call for a $500 million reduction in taxes; Reform Florida's bloated and unsustainable pension system; Oppose Medicaid expansion, and; Encourage school choice and local control. Our group consisted of highly knowledgeable, fact-filled citizens, who made convincing arguments and enlightened many of these politicians who seemed to live in a fog. We scored many points but most disappointing of all was our neighbor, Dem. Sen. Jeff Clemens, who had the lowest AFC rating of any elected representative in all the capital."
Our warrior against Common Core, Alison Rampersad, then brought the club members up to date on the war in the trenches. Despite the Gov.'s dropping one of the two consortiums for statewide testing, many Florida students in K – 2 will still be Common Core tested, she revealed. However, Rep. Debbie Mayfield finally found a Senate partner, Republican Greg Evers, to bring a companion bill forward, which would call for a three-year pause in testing, to evaluate the controversial program's efficiency. So there may be hope. Additionally, a large number of district school boards seem to be in favor of a hiatus until 2017, so maybe it will coalesce. Through a fluke of not getting its paperwork in on time, PBC never received any Race to the Top prize money, so technically, we should not be compelled to participate. And lastly, there is a small movement afoot to bring textbook selection from the state level down to the district.
Lastly, Col. Arthur DeRuve (Ret.) expounded on the current tension between the United States as leader of the Free World, and the Forces of Darkness. He likened the situation to World War IV, labeling the Cold War Era and the global communist threat as WW III. He lamented the failure of the Government to realize that the only answer to worldwide fascist Islamic terrorism was the Peace Through Strength strategy, of muscularly taking the fight to them, instead of shrinking and weakening our military prowess. "Look at the millions of free people in Eastern Europe because of our Peace Through Strength policy," he said. The colonel noted that the jihadists, who only worship Death and not Life, can only win if we let them win. "The borders of this war are not defined – the battleground is everywhere. We cannot let the leftist media and the leftist politicians devastate and weaken our military might," he warned.
The Republican Club of Central Palm Beach County's next meeting will take place on Thursday, April 3rd. Please bring a friend.