Despite having grown up in Brooklyn and having graduated NYU, Dr. Larry Kawa became a staunch Republican, philanthropist, and community activist, and south Florida reaped the benefits. Somewhere along the line he encountered Edmund Burke's political philosophy, for he took to heart his popular adage, "All that is necessary for the triumph of evil is that good men do nothing," and he persevered.
In addition to directing a highly successful Orthodontics and Oral SurgeryPractice in Boca Raton, Dr. Kawa serves as President of the PBC Republican Party's Chairman's Council, served as Chairman of Physicians and Dentists for Mitt Romney, and founded the Political Action Committee, American Courage.
He has hosted the gamut of GOP luminaries, from Romney and Paul Ryan, Eric Cantor and Tim Pawlenty, to Ann Coulter, Michael Steele, Allen West, and Adam Hasner. Yet he also finds time to work with underprivileged children, the Girl Scouts, two County School Districts, and the Lynn University School of Business Management.
Dr. Kawa will tell any Democrat that, "You cannot legislate the poor into prosperity by legislating the wealthy out of prosperity." We are lucky to have him on our team. On Thursday evening, he will be speaking on the status of his lawsuit against Obamacare, filed jointly with Judicial Watch.
Atlantis Feb. 6 – New PBC Republican Executive Committee Chair Anita Mitchell called for "pragmatism based on principle and principles dosed with pragmatism" as she spoke before the monthly meeting of the PBC Central Republican Club.
"We have the issues, we have the pillars, and we have the solutions, so I say to the Democrats, 'Game on!'" She noted that we have three important municipal elections coming up, that require Republicans to coalesce and unite behind the candidates. "Our job at the REC is not policy but practicality. As Palm Beach County continues to swing left, we need to bring back Independents (and Libertarians) and get Republicans elected."
The longtime lobbyist and GOP fundraiser emphasized the importance of Palm Beach County's role in the American political mosaic. "We are nationally recognized and we are the most important county in Florida for Gov. Scott's re-election. And everyone knows that the road to the White House runs through Palm Beach."
She beseeched the members to get involved and to bolster the REC. "We've painted the office, filled the coffee urns, and will unveil a snazzy new website and release a manual for precinct workers soon. Please come in to visit, we're open for business, and it's game on! Give me an R."
Tickets are still available for the Lincoln Day Dinner on Feb. 21st featuring Sen. Ted Cruz, Alan West, and Dr. Ben Carson, and for the Statesman Dinner the night before with Dick Morris. Call Steve at 561-733-9277 for details. Also, the 2014 Slate of Officers was elected unanimously at the meeting. President Steve Ledewitz, Vice-President Father David Kennedy, Treasurer Alison Rampersad, and Secretary Richard Berkow.
Atlantis, Nov.7th – After our own Tami Donnelly announced that she, her husband, and their company had just had their health insurance policy abruptly canceled, guest speaker Dr. Angela West picked up the cudgel to further expose the lies, myths, and disinformation perpetrated by the Obamacare juggernaut, at the Central PBC Republican Club monthly meeting.
"Make no mistake," she warned. "Everyone will be affected and the impact will be huge. Folks with pre-existing conditions will be dropped, small businesses will find the rules and reporting requirements unfathomable and unaffordable, HR departments at large corporations will have to charge each worker on their plan individually, anyone working 30 hours per week will be considered full-time, temporary and seasonal workers' health plan options will prove incalculable, illegal immigrants will continue to get free care, and the IRS will be on the case of everyone subject to penalty and fine."
The mild-mannered wife of the popular Col. Allen West added that snowbirds will find themselves in an impossible dilemma, hospitals who don't kowtow to the newly-created Obamacare agencies and bureaucrats will find themselves going broke, Medicare payroll taxes, premiums, and deductibles will rise exorbitantly in the coming years, Tricare will probably end, and the collateral damage to families and businesses will likely deepen unemployment.
Dr. West repeated that the devil was in the details which had for too long been overlooked. "An honest appraisal of the ACA's weaknesses has led actuaries to believe that the current 30 million uninsured Americans will vault to 60 million in a few years, and they won't be the same people," she noted. "They will be middle-class citizens, depressed and frustrated by a system which gives presidentially-appointed governing boards sweeping powers to control their lives. And in the end, sad to say, the medical system will devolve into a state of, 'Nobody cares.'"
For more information and advice please contact Dr. West at angela.west@raymondjames.com
The CPBCRC annual Holiday Dinner and Party will be held on December 5th at Atlantis. Guest speaker will be FL Director of Americans for Prosperity, Slade O'Brien. Tickets cost $49 for members and $55 for guests. Please contact Steve Ledewitz for choice of meal and further details at 561-733-9277.
October 3, 2013, Atlantis –  The "Common Core State Standards Initiative" being foisted on the American people and state governments by Washington DC met an indefatigable foe in Dr. Alison Rampersad at the October, Central PBC Republican Club meeting. She systematically exploded its snares and pitfalls, lies and cover-ups, false premises and true intentions.
Alison Rampersad
"This One-Size-Fits-All Program for national education, aside from being unconstitutional, is also not a mandate from this so-called National Governors Association as advertised, but a brazen attempt by well-heeled parties for Federal control of our children's minds," she thundered.
"Who's behind this?" the Lynn University Business Professor asked rhetorically. "DC-based trade unions, the Bill Gates Foundation, George Soros, teachers unions, Jeb Bush on behalf of his younger brother Neil, Pearson e-Books, and progressive groups from DC who'll write the curricula and the exams, all supported by the Dept. of Education."
She explained that this ill-conceived idea, originally meant in the Mission Statement to "meet and exceed international standards" was later changed to "be informed by international standards," because that goal was unobtainable. "In 2010, States were pressured to accept Common Core without investigating its substance because they were in financial straits. Now as they begin to learn its weaknesses, they are pausing and withdrawing. We need to educate their legislators as to what a disaster this entails."
Rampersad illustrated her contentions:
The national curricula cannot be changed by local boards. All tests will be from this, and there is no appeal. Again, "Teaching to the Test" will be the classroom strategy.
The literature portion for tenth-graders contains smut that would shame a pedophile.
The math portion has adopted a process-based approach which has proven unfathomable to adults. Arriving at the correct answer is not crucial.
Teachers will need to be retrained at State expense.
There have been no Congressional Hearings on any of this, yet this "Race to the Middle" will severely harm disadvantaged youth, autistic children, the Gifted & Talented programs, and must be adopted by private, charter, and voucher schools.
GED, PSAT, ACT, and SAT will be aligned to Common Core Standards and consequently, dumbed down.
The one Ed. Expert on the original panel, a Stanford University professor, quit in disgust. American History has been revised and denigrated.
Some Agebra II and Geometry lessons have been eliminated, and Calculus will no longer be taught in high schools. Cursive writing has also been chopped.
Overseas educators have looked at the program and laughed.
The estimated cost of implementing Common Core stands at $15.8 billion with many expenses yet to be determined.
As head of the Parents Coalition, Rampersad's immediate goal is to convince Gov. Scott to withdraw Florida from this debacle. The movement gathers strength every day, as more people become informed.
The Nov. 7th Central GOP Club meeting will feature Dr. Angela West, wife of former congressional representative Allen West.
Join us at Bear Lakes Country Club for a reception with Governor Rick Scott.

Join us for Lobster Fest 2013. Use the [PRINT] link (upper right) to print the form and send it (along with a check) to the address noted.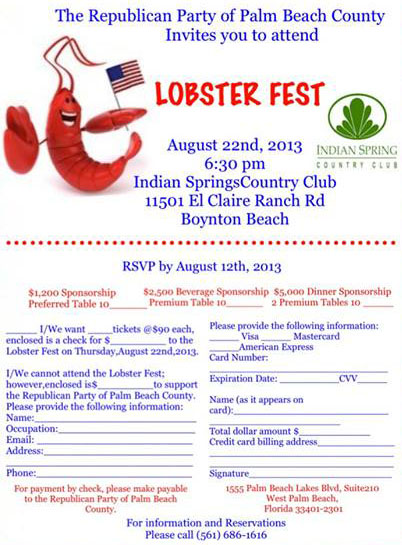 March 6, 2013, Atlantis –  Palm Beach County "Mayor" Steven Abrams surveyed the  local landscape before the latest Central Republican Club monthly meeting, emphasizing how the GOP's common sense approach to challenges has yielded positive results. "In the 2009 County Commissioner's Budget," he explained, "the Democratic majority irrationally scotched Road and Bridge Repairs – and this is at the height of the recession – in favor of street painting for a Lake Worth City celebration. It took two years of public outcries and GOP convincing for us restore this vital public service."
Similarly, the newly-renamed Chairman of the County Commission pointed out that Priority Number One of these elected officials was Public Safety, followed by a Return-To-Prosperity Agenda. "Palm Beach is the largest County east of the Mississippi and affordable housing and low taxes are the keys to attracting new business. If you take out of the equation the severe systemic weaknesses of Belle Glade and Pahokee – and we are working very hard to resolve these problems – our Unemployment Rate is lower than Florida's average."
He added that the Republicans' ability to finally persuade the Commission to engage in smart outsourcing had already borne significant fruit. "We have a huge Vehicular Transportation Section and by contracting NAPA to handle our Parts Departments, we've accrued savings of more than 400,000 dollars."
Abrams had just returned from Tallahassee where he and other PBC officials and representatives had met with the Governor, his staff, and other legislative leaders to press for increased finances. He particularly stressed to the audience to keep an eye on rising Hialeah Republican star Jose Oliva, whom he described as "handsome, charismatic, articulate, and a successful entrepreneur with a fantastic future."
The former Boca Raton Mayor also revealed some of the inner workings of the County's Ethics Commission, Broadband Coalition, Redistricting tussles, Business Development Board, and Convention Center Hotel Tax. He answered questions forthrightly from the members, such as the power of the labor unions in the Solid Waste Authority's contracts process. Mayor Abrams was kind enough to fill in for the Club's scheduled guest speaker, Maziar Keshavarz, who could not come due to a death in the family. This native Iranian Civil Engineer and PBC GOP activist will appear at the Thursday, April 4th meeting, to offer his unique perspective on what's really going on inside Persia.
_ _ _
Feb. 6, 2013, Atlantis – "The score is 20 to 17, not 20 to nothing as the lamestream media would have you believe," proclaimed Peter Feaman to the Central Republican Club audience at their monthly meeting. "We control 30 state governorships, 24 state legislatures, the House of Representatives, and although the base is currently demoralized, we are not getting killed and we will bounce back."
"We lost Florida by 75,000 votes or less than one percent," continued Florida's newly-elected State Representative to the Republican National Committee, "and that was primarily due to the maltreatment of the Ron Paul faction by the Convention Rules Committee. Newt called this 'the tyranny of the professional consultants,' because they wanted to disenfranchise this faction, who subsequently, did not vote. They changed the rules in August at Tampa, whereas ironically, the GOP's full-time Standing Rules Committee cannot change any rules at all. That's one reason why I'm going to Washington. We grass-roots people are going to re-install common sense."
He noted that Romney beat Omama in the Sunshine State by 180,000 votes in the 30+ Age Category, but lost by 250,000 in the under 29 slot. "And there's your difference. As the Party of Individualism and not Collectivism, as the Party of Independence and not Dependence, the Party of Values and not No Values, we have a harder time getting our message out. While we're busy at work, Obama's Democrats can spend all day on Social Media with the groveling major media in their back pocket. Plus of course, we're held to a higher standard, but we've read their Playbook and we'll copy it and improve on it."
Feaman revealed that he recently had lunch with Gov. Scott and found him to be honest, forthright, and charming. "Unfortunately, he doesn't come across that way in front of the cameras, but we have got to re-elect him. Here's a guy who doesn't take any salary, pays for his own transportation, and only wants to make Florida the best state in the Union to live in. And his competition will be Charlie Crist, who is one slick politician. He will lock up the Democratic nomination, and yet when I confronted him and asked him why he once swore to me that he was a Ronald Reagan Conservative, he could only mutter, "Well, the Party's changed.'"
Feaman also lambasted Obama as a Chamberlain-like appeaser intent on weakening our National Security. "For example, CIA and Military Intelligence knew from the communications traffic that an attack was imminent in Benghazi to occur on 9/11. But they were silenced and ordered inactive because the Campaigner-in-Chief had said that Al Qaeda was finished, and as a result, four sterling people were sacrificed at the Consulate."
The Palm Beach County Attorney concluded by excerpting from his latest book, The Next Nightmare, the long-term Sharia Plan for taking over the United States and re-establishing the Twelfth Caliphate. With the help of the Obama Administration and the exorcising of God, the Bible, the Ten Commandments, and any spiritual values in the American Educational System, they seem to be right on schedule.
_ _ _
The next Republican Central Club meeting will take place on Thursday, March 7th, and our guest speaker will be Maziar Keshavarz. This Iranian native and resident PBC Civil Engineer will offer his unique perspective on what's really going on inside Persia. Please bring a friend for this exciting and illuminating meeting and let's build up the membership.    
Jan. 4, 2013, Atlantis – Excerpts from Col. Arthur DeRuve's address, "A Tribute to Our Troops and Veterans."
"…We honor our soldiers not because they are gladiators or warriors, but because they have defended and protected the freedoms and rights of the most unique country in History. The success of the Founding Fathers was due to the first boots on the ground, who made it possible for self-governance to be realized and for Power to percolate from the bottom up…Our will was again tested by the Barbary Pirates in 1803, and our Marines took care of business.
"We were confronted once more by the British in the War of 1812, and by our boots on the ground, held firm. The tragedy of the Civil War proved to the world that our Republic could survive, and as freedom continued to flourish and mass immigration from Europe began, the French people showed their gratitude by presenting us with that great symbol, The Statue of Liberty.
"In our second century, the Spanish American War saw American boots on the ground bring freedom to the peoples of Cuba and the Philippines, and our role in The War to End All Wars made Democracy safe. However, international developments led to the rise of Totalitarianism, Fascism, Nazism, and Imperialism, yet our soldiers still prevailed. Communism came to be our longest chief nemesis, but eventually too, the Soviet Union collapsed.
"Our third century brings to the fore our gravest challenge yet, the quest for a world theocracy by the Islamic fundamentalists. They call us The Great Devil and brook no compromise. They are different than all our other enemies, but our troops have still proven indomitable.
"It is the Veteran who has given us our Freedom of the Press, not the Reporter, our Freedom of Religion, not the Priest, our Freedom of Speech and not the Professor, and our Freedom of Assembly, not the Politician. We salute our troops, past and present."
The next Republican Central Club meeting will take place on Wednesday, Feb.6th, and not on the customary Thursday, due to the Lincoln Day Dinner the following evening. Our guest speaker will be Florida's Representative to the Republican National Committee, Peter Feaman. He will offer an insider's look at whether the party's consultants blew the election (again), and how the Anointed One's re-election may literally destroy America. The feisty Boca Raton attorney will also reference his latest book, The Next Nightmare. Please bring a friend for this exciting meeting and let's build up the membership.    
Nov. 2, 2012, Atlantis – Former Reagan, Bush Sr., and Bush Jr. White House Official Kevin Foley delighted Central Republican Club members with insights and stories into those Administrations, as a respite for relaxation prior to the coming turbulent Tuesday. The ex-Marine and longtime Advance Man/Planning Events impresario for the three presidents and other top officials regaled the audience with stories about the inner workings of the White House and Air Force One, and why Obama was so intent on covering up the 9/11 Benghazi Libya Affair.
The next Republican Central Club meeting will be our festive Holiday Special on Thursday, Dec. 6th, with special guest speaker, J. Christian Adams, former Justice Dept. official who resigned in protest at Attorney General Eric Holder's chicanery in the Voting Rights Section and his perversion of the office he swore to uphold. Seen frequently on national TV and author of the recent book Injustice, Adams will mesmerize you with his stories from Washington. Dinner per couple costs $100 which includes the book, and $65 for singles. Meal selection of Sirloin, Tilapia, or Chicken require advanced reservations, so please call Bill Skinner at 433-1170 or Co-Chair Greg Ringdahl at 833-7080 for more details. This is one get-together you won't want to miss.