Atlantis September 4 – Longtime political consultant and Chicago native Larry Horist offered rare insight into Barack Obama at the Central Republican Club monthly meeting, calling his mind a mixture of the ruthless, power-hungry David Axelrod and the socialist idealogue Valerie Jarrett. "He is the most dangerously inept president in American history," he said, "and the only one not bred into its culture. He grew up overseas and then was raised in the 60's by the haters and the radical leftists. His perception of America is skewed, so that the first thing he does as President is take a trip around the world to apologize."
He characterized Chicago as a "banana republic" – one party rule, one party City Council, one party bids and contracts, one party at union negotiations – and that Washington was Chicago writ large. "If the Democratic Party wasn't legal, it would be a crime syndicate," he chuckled.
"Their only goal is to enhance their power, and by doing so, control their constituencies," offering as proof the inner cities of Detroit, New York, Chicago, Los Angeles, Miami, Boston, et al, all Democratic bastions, all heavily black, and all home to the worst school systems in the country. "They never afford the blacks the ladder of opportunity the way they did to other immigrant groups, yet they blame the Republicans for their misery and play the message game to win their votes," he explained.
Horist called for a reduction of Government size and scope to tackle America's myriad problems, stressing that the first Constitutional obligation of the Fed was to provide for the common defense, which meant protecting the borders, and not to expand the welfare business.
He went on justify abolishing both the IRS and the Dept. of Education, dissolving public sector unions, and to ridding America of Harry Reid by winning back the Senate.
Next month's meeting on Oct. 2nd will not take place at Atlantis as usual, but rather at PBC's Republican Headquarters, 1555 Palm Beach Lakes Blvd., Suite 210, 1555 Palm Beach Lakes Blvd, in West Palm Beach. We will be manning the phones to get out the vote for Republican candidates, in the all-important upcoming November General Election.
Every two years, during the summer of an election year, the county GOP hosts a "Jamboree" at the South County Civic Center. With a barbecue lunch under the pavillion roof, surrounded by covered booths hosted by candidates and political clubs, it is gathering place for the GOP faithful and those who seek to represent them at all levels of government.
This year was no different, although there are fewer contested races than in years past, and thus fewer candidates to strut their stuff. With the absence of a Senate race or close primary for Governor, the intensity was somewhat subdued, but the stakes are as high as ever, and those in attendance were asked to help get our candidates over the finish line.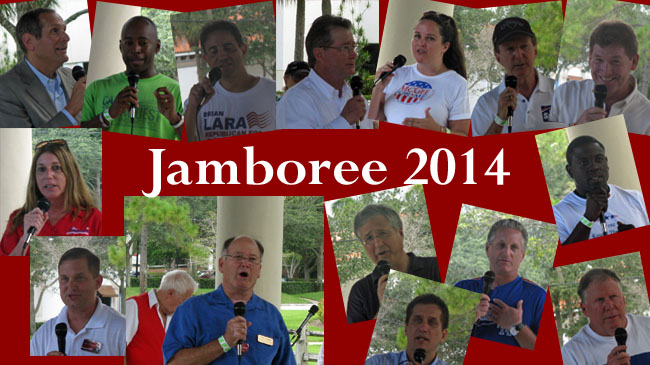 Clockwise from upper left: Alan Schlesinger, Calvin Turnquest, Brian Lara, Jay Bonner, Andrea McGee, Paul Spain, David Wagie, Kesnel Theus, Joseph Moore, Andrew Schaller, Thomas Sutterfield, Steven Abrams, MC Peter Feaman, Stuart Mears and Ellyn Bogdanoff.
With Committeman Peter Feaman as MC, the candidates made their pitch.
Three of the six Republicans seeking to challenge Patrick Murphy in CD18 were present, including Alan Schlesinger, Brian Lara, and Calvin Turnquest. And in CD22, all three of Lois Frankel's challengers – David Wagie, Paul Spain and Andrea McGee participated, as did our challenger for Alcee Hastings CD20, Jay Bonner. There is no Republican challnger against Ted Deutch in CD21.
At the state level we had Ellyn Bogdanoff, seeking a rematch with Maria Sachs in SS34. After the redistricting shuffle left two sitting Senators to go head to head in 2012 for a D+9 district, Sachs prevailed with 53% of the vote. With turnout expected to be less favorable to Democrats in this midterm, the rematch could have a different result. Stuart Mears, challenging Mark Pafford for House District 86 was with us as well.
None of the executive candidates (Governor, AG, CFO, Agriculture) were present.
At the county level, we heard from Steven Abrams, running for re-election as county commissioner in district 4, and Andy Schaller who is seeking the open seat in district 6 vacated by term limited Jess Santamaria, and school board candidates Joseph Moore, the district 6 challenger to incumbent Marcia Andrews, and Thomas Sutterfield for the open seat in district 4. Kesnel Theus, who is running against Peyton McArthur for the open seat on the Port Commission joined us as well.
August 7th meeting of the Republican Club has invited the three candidates challenging Lois Frankel in our 22nd congressional district to discuss the election with us.  Frankel is in her first (and, hopefully, only) term and, as expected, votes* down there with Debbie Wasserman-Schultz, Alcee Hastings and the other Big Spenders that have put us and our children in such deep debt.  We have some good candidates –come and meet them.  They'll each give a brief presentation and then answer all of our questions. Come and decide which one to vote for to oppose Frankel so you can cast an informed ballot. They are:  Andrea McGee, David Wagie, and Paul Spain.
Meeting begins at 6:30 p.m., at the Atlantis Country Club, 190 Atlantis Dr. Light fare at 6. First-time guests, free.
Atlantis July 3 – Veteran White House operative Kevin Foley reviewed the upcoming close Senate races before the Republican Club at their latest meeting, describing the necessity of winning six extra seats to take control of the Senate. He stressed the need to "GO TV" i.e. Get Out The Vote and bring disaffected Independents back into the fold.
The burly ex-Marine interwove anecdotes from his service in the various Republican Administrations with his analyses of tight races, ranging from South Dakota as a given to North Carolina, Colorado, and Kentucky as real dogfights.
He also made a point of attributing the self-identifying label of Democrat to so many seemingly intelligent people to traumatic incidents suffered during potty-training, concluding that there was no other explanation.
Foley revealed that many House Democrats were miffed at Obama's insistence that they lemming-like support him 100 percent of the time on 100 percent of the issues, as they regarded this as "going over the cliff together."
When asked about Benghazi, he replied that the deficiencies in security at the American Consulate were beyond inexcusable, and that Hillary Clinton's whereabouts at the time of the crisis still remained a mystery.
The Republican Club of Central Palm Beach County's next meeting will take place on Thursday, August 7th. The three Republican candidates for the August primary, Andrea McGee, David Wagie, and Paul Spain will debate the issues. Please bring a friend.
Atlantis June 5 – Attorney Bill Skinner has spent prodigious amounts of time, money, and effort in trying to straighten out the mess – the inequities, the biases, the injustices, the charlatanry, and the illegalities – that seem inherent in the DNA of Palm Beach County elections. He shared some of his accumulated wisdom with his fellow Central Republican Club members on Thursday night, which he has catalogued in a new book, entitled South Florida Election Law Handbook.
"The elections of 2014 and 2016 are ours to lose," he exhorted. "There are nearly 250,000 unregistered voters in PBC and our job is to find them, register them, and educate them."
"We've been out-psyched, outfoxed, and outspent – in a word, bamboozled – by the Democrats, who have mastered Al Sharpton's technique of ascribing race-baiting to anything you disagree with them."
Skinner explained how the Democrats have muscled their way into ownership and control of PBC's huge HOA population, suppressed First Amendment rights, prejudiced judges, stacked the appeals process, and relied on the disconnect between Florida State Attorneys and the Florida Dept. of Law Enforcement to avoid compliance with the Law, not to mention Justice.
He urged Republicans and RECs to vet their candidates carefully, expand mightily their presence in precincts, learn how to accumulate data bases, check fraudulent registrations, and file clean Voter Challenges. And he called upon "love of country" as the motivation for doing the hard work that needed to be done.
The Republican Club of Central Palm Beach County's next meeting will take place on Thursday, July 3rd. Please bring a friend.
Our own Bill Skinner, attorney, civic activist, community leader, and bon vivant will discuss the trials and tribulations of conducting a fair and uncorrupted election here in internationally renowned Palm Beach County. It's amazing how far our reputation has spread.
The meeting will begin at 6:30 pm on Thursday, June 5th, at Atlantis Country Club, with light hors d'oeuvres served beforehand. Your attendance could prove pivotal in the fateful elections ahead. So please bring a friend. First-time guests are warmly welcomed at no charge.
More than half of Florida's local government pension plans are less than 70 percent funded, a situation that will drive the Sunshine State to an inevitable catastrophe, according to the nonpartisan, nonprofit Florida TaxWatch research institute.
Robert Wissert, the RCCCPBC's guest speaker for April, warned the crowd that the archaic "Defined Benefits Plan" for municipal employees may fly under the radar, but it is the Tallahassee group's top priority.
"By law these promises must be kept, yet Florida's localities are underfunded to the tune of $4 billion," Weissert said. "The Leroy Collins Institute at FSU rated 23 of PBC's 29 pension plans at an F or D status, meaning either your taxes go up or services go down or a combination of the two."
He called the Defined Benefits mandate anachronistic, the type of system that led to the downfall of the steel, auto, and airlines industry.
"It was devised by politicians and unions without any citizen input, and no business uses this anymore," he explained. "Everyone has switched to 401(k) plans and the like. But the obligations must be met."
The TaxWatch Research Director cited examples of how retirement systems have been abused, including one instance where a 911 operator in Miami Beach engaged in "spiking" – piling up overtime in her last years on the job – to retire on her $55,000 salary  for a yearly benefit of $165,000.
He also noted that the million-member Florida Retirement System for state employees was funded at 87 percent, but it still received $500 million in contributions from taxpayers. By contrast, Illinois' system was $100 billion in debt, Detroit retirees were receiving 19 cents on the dollar, Puerto Rico's plan was only 6 percent funded, and municipalities in CA, KS, and MS have declared bankruptcy due to exorbitant pension commitments.
"The actors in drawing up these plans – the actuaries, the union lawyers, the politicians – never left a chair for the taxpayer. They knew that today's payments would be based on tomorrow's promises, and that 'government' could legally reach into your pockets to pay for them," Weissert continued. "But other factors – voter apathy, bad collective bargaining laws, investment restrictions, insurance premium caveats, and ridiculous employee benefits – also contributed."
"So how do we get out of this mess?" he asked rhetorically.
"Reform requires action at the state level, with reasonable alterations to our constitution, at the legislative level with changes to Florida's statutes 112, 175, and 185, and massive awareness programs in localities, with media coverage, homeowners and condo rallies, educating politicians, and talking to all types of civic groups," he answered. "People and communities must learn the liabilities they are shouldering."
Otherwise, he warned, a fiscal tsunami will engulf every Florida community, leaving our children and grandchildren to bear the brunt of it all.
Atlantis March 6 – With an unfortunate last-minute postponement by guest speaker Dr. Larry Kawa, club members rose to the occasion to conduct a fruitful meeting.
Veteran activist George Blumel led the parade, describing his recent excursion to Tallahassee under the Americans for Prosperity banner. "We met with representatives of both the House and the Senate," he said, "and discussed our top legislative priorities: Support Gov. Scott's call for a $500 million reduction in taxes; Reform Florida's bloated and unsustainable pension system; Oppose Medicaid expansion, and; Encourage school choice and local control. Our group consisted of highly knowledgeable, fact-filled citizens, who made convincing arguments and enlightened many of these politicians who seemed to live in a fog. We scored many points but most disappointing of all was our neighbor, Dem. Sen. Jeff Clemens, who had the lowest AFC rating of any elected representative in all the capital."
Our warrior against Common Core, Alison Rampersad, then brought the club members up to date on the war in the trenches. Despite the Gov.'s dropping one of the two consortiums for statewide testing, many Florida students in K – 2 will still be Common Core tested, she revealed. However, Rep. Debbie Mayfield finally found a Senate partner, Republican Greg Evers, to bring a companion bill forward, which would call for a three-year pause in testing, to evaluate the controversial program's efficiency. So there may be hope. Additionally, a large number of district school boards seem to be in favor of a hiatus until 2017, so maybe it will coalesce. Through a fluke of not getting its paperwork in on time, PBC never received any Race to the Top prize money, so technically, we should not be compelled to participate. And lastly, there is a small movement afoot to bring textbook selection from the state level down to the district.
Lastly, Col. Arthur DeRuve (Ret.) expounded on the current tension between the United States as leader of the Free World, and the Forces of Darkness. He likened the situation to World War IV, labeling the Cold War Era and the global communist threat as WW III. He lamented the failure of the Government to realize that the only answer to worldwide fascist Islamic terrorism was the Peace Through Strength strategy, of muscularly taking the fight to them, instead of shrinking and weakening our military prowess. "Look at the millions of free people in Eastern Europe because of our Peace Through Strength policy," he said. The colonel noted that the jihadists, who only worship Death and not Life, can only win if we let them win. "The borders of this war are not defined – the battleground is everywhere. We cannot let the leftist media and the leftist politicians devastate and weaken our military might," he warned.
The Republican Club of Central Palm Beach County's next meeting will take place on Thursday, April 3rd. Please bring a friend.
Atlantis Feb. 6 – New PBC Republican Executive Committee Chair Anita Mitchell called for "pragmatism based on principle and principles dosed with pragmatism" as she spoke before the monthly meeting of the PBC Central Republican Club.
"We have the issues, we have the pillars, and we have the solutions, so I say to the Democrats, 'Game on!'" She noted that we have three important municipal elections coming up, that require Republicans to coalesce and unite behind the candidates. "Our job at the REC is not policy but practicality. As Palm Beach County continues to swing left, we need to bring back Independents (and Libertarians) and get Republicans elected."
The longtime lobbyist and GOP fundraiser emphasized the importance of Palm Beach County's role in the American political mosaic. "We are nationally recognized and we are the most important county in Florida for Gov. Scott's re-election. And everyone knows that the road to the White House runs through Palm Beach."
She beseeched the members to get involved and to bolster the REC. "We've painted the office, filled the coffee urns, and will unveil a snazzy new website and release a manual for precinct workers soon. Please come in to visit, we're open for business, and it's game on! Give me an R."
Tickets are still available for the Lincoln Day Dinner on Feb. 21st featuring Sen. Ted Cruz, Alan West, and Dr. Ben Carson, and for the Statesman Dinner the night before with Dick Morris. Call Steve at 561-733-9277 for details. Also, the 2014 Slate of Officers was elected unanimously at the meeting. President Steve Ledewitz, Vice-President Father David Kennedy, Treasurer Alison Rampersad, and Secretary Richard Berkow.
Atlantis, Nov.7th – After our own Tami Donnelly announced that she, her husband, and their company had just had their health insurance policy abruptly canceled, guest speaker Dr. Angela West picked up the cudgel to further expose the lies, myths, and disinformation perpetrated by the Obamacare juggernaut, at the Central PBC Republican Club monthly meeting.
"Make no mistake," she warned. "Everyone will be affected and the impact will be huge. Folks with pre-existing conditions will be dropped, small businesses will find the rules and reporting requirements unfathomable and unaffordable, HR departments at large corporations will have to charge each worker on their plan individually, anyone working 30 hours per week will be considered full-time, temporary and seasonal workers' health plan options will prove incalculable, illegal immigrants will continue to get free care, and the IRS will be on the case of everyone subject to penalty and fine."
The mild-mannered wife of the popular Col. Allen West added that snowbirds will find themselves in an impossible dilemma, hospitals who don't kowtow to the newly-created Obamacare agencies and bureaucrats will find themselves going broke, Medicare payroll taxes, premiums, and deductibles will rise exorbitantly in the coming years, Tricare will probably end, and the collateral damage to families and businesses will likely deepen unemployment.
Dr. West repeated that the devil was in the details which had for too long been overlooked. "An honest appraisal of the ACA's weaknesses has led actuaries to believe that the current 30 million uninsured Americans will vault to 60 million in a few years, and they won't be the same people," she noted. "They will be middle-class citizens, depressed and frustrated by a system which gives presidentially-appointed governing boards sweeping powers to control their lives. And in the end, sad to say, the medical system will devolve into a state of, 'Nobody cares.'"
For more information and advice please contact Dr. West at angela.west@raymondjames.com
The CPBCRC annual Holiday Dinner and Party will be held on December 5th at Atlantis. Guest speaker will be FL Director of Americans for Prosperity, Slade O'Brien. Tickets cost $49 for members and $55 for guests. Please contact Steve Ledewitz for choice of meal and further details at 561-733-9277.